News
10 MAR 2017 - PRESS RELEASE: PUC Reaches Out to Consumers.
The Public Utilities Commission (PUC) continues on its mission to ensure that consumers are aware of their rights to seek redress via the Commission when they believe that a utility was unfair in resolving issues with them.
In 2016 the PUC's teams, which comprised members of staff of the several divisions went on outreaches around the country which included Georgetown, Berbice, West Coast Demerara, East Bank Demerara, East Bank Essequibo, the Essequibo Coast and even passengers on the MV Kanawan that were traversing the Parika/Supenaam route.
Team Berbice, based at their office in Port Mourant, have reached consumers between No.51 Village along the Corentyne Coast and Stanleytown in the New Amsterdam area. They explained what the PUC was about and shared out pamphlets with useful information such as the role of the PUC and various methods of filing complaints, including graphical details on filing complaints online via their website: www.puc.org.gy.
The Georgetown team, based at the PUC's headquarters in New Garden Street, Queenstown, Georgetown has covered areas within the boundaries of Giftland Mall, Diamond (E.B.D) and Vreed-En-Hoop. Consumers also have seen and heard them on the "Guyana Today" television and "Let's gyaff" radio programmes on NCN.
Last June both teams combined to embark on a massive public awareness and education drive in Essequibo, reaching out to consumers in Parika, Supenaam, Suddie, Anna Regina and Charity. This 4-day outreach saw them interacting with consumers in markets, schools, the NDC office at Charity, the Essequibo Chambers of Commerce, Suddie Hospital and taxi drivers plying the Supenaam to Charity route. Knowing fully well that they could not visit the entire Essequibo Coast on this trip they made appearances on the "Ravi D" show at the R.C.A television station at Charity, Essequibo.
This year's awareness programme commenced with outreaches at GUYOIL in Regent Street, Georgetown and at Alness Village in Corentyne, Berbice. While many consumers are happy to learn about a corporate body that is mandated under the Public Utilities Commission Act to investigate and resolve complaints filed against any public utility under its purview (Electric, Telecommunications, Water & Sewerage), some of them actually used the opportunity to seek advice on issues that they currently face with utilities - arbitrary billing, allegation of tampering and wrongful disconnection.
For the year 2016 the Commission secured credits for consumers from the utility companies in the sum of $13,285,302. The credits represented various sums for overbilling, failing to correct defaults in time, etc.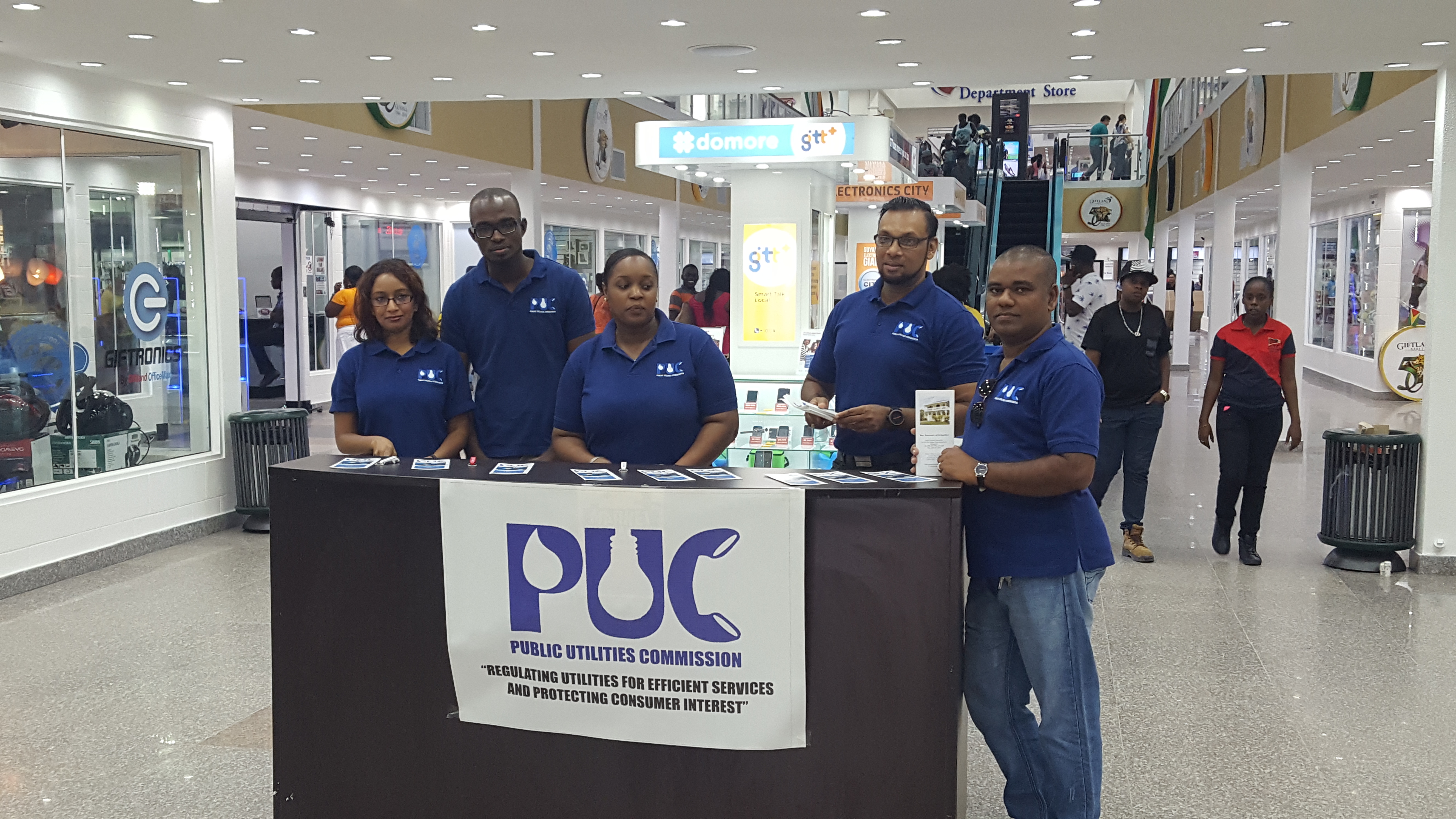 The PUC Team at the Giftland Mall.
---